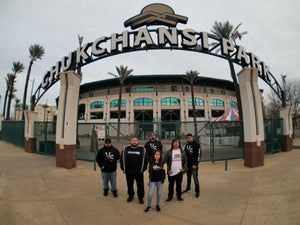 Villains and Saints Clothing
Positive Vibes. Everyone needs some positive in their lives. It's not always easy just to accept those feeling and we get that. V&S was created to help with that by spreading those positive vibes and encouragement to achieve your goals and to have that support group behind you when you wear and follow our family. Lets give you a little background on the brand name and the founders of the brand. 
The name came from one of the founders Rudy H. He, like many of you was experiencing some stress and self doubt. He felt like that the Negative of the world was becoming more of a norm these days. This was an issue. In this time of day we jump on social media and share everything! From funny pics and videos to some disturbing shit. It was becoming a norm to see videos of hate all over the feed. Rudy felt like that there wasn't enough good to look at when on social media. Now of course, he can just shut off his phone/computer and don't worry about it or he can be a little shine of light and create a image that only spreads positive. That day Villains and Saints were born.
Villains and Saints was a name that came to Rudy that perfectly described social media content these days. It was a goal for Rudy and Dan (Co-Founder) to spread some awareness and to add some positive in some news feeds. Along with his attempt to spread the vibe, he wanted to also turn your attention off the drama of the world and focus on the beauty in life. Along with the brands designs and message, they are doing collaboration with many same minded people. 
The mission for the V&S guys is not to sell a brand that represents just fashion but the message. The everyday battle between Negative and Positive. Villains vs Saints. When you buy from the brand, you are apart of a support family. Ride this journey with them and help spread the word. 
---