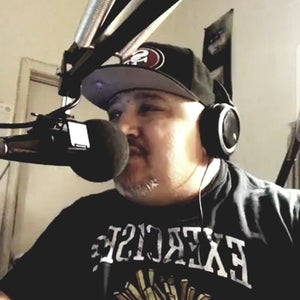 The Experience
 My first initial thought of the word Podcast was talk radio/ interviews and that's it. That was until we teamed up with a local DJ by the name of Spanish Fly. Spanish Fly has a background experience with working in Fresno,Ca as a dj for local radio stations and now living in Sacramento on his own show on KUBU 96.5FM every Saturday Night from 6pm to 8pm where he plays all the old school Hip Hop and R&B. 
Recently we talked about teaming up to produce a podcast for Spanish Fly called THE SPANISH FLY EXPERIENCE where he can give the listeners a insight of the artist he play's and also give his experience on when he first heard the artist as a dj. So we get both informed on our favorite music and a story from a radio dj on how music changed his life. We thought that could be a very interesting show so we started right away on making this happen. 
You can hear Season 1 of The Spanish Fly Experience anywhere you can stream podcast. We like to listen to it on Spotify or on our Anchor Podcast App. (Links below at the end of this article). Season one has 10 episodes ready for you to stream now. We worked out a promotional deal with his listeners to get a discount off V&S Clothing. All you got to do is listen to the show and get the promo code off and shop with us and save on your entire order. So go listen now and get laced up with us. 
We love the show Paul and we look forward to working with you on Season 2. (air's at the end of November 2018). 
Listen on the links below:
Spotify: https://open.spotify.com/show/5kYUujxZHeoW8prjpT3ZSN?si=53EErqopR-ijr8RbZOKPNA
or 
Anchor:  https://anchor.fm/the-spanish-fly--experien
Keep up the good work Paul aka Spanish Fly!!!
- Rudy Villain
---